URGENT Message
Due to COVID-19, Walk-In Services have been suspended.

All Adult/Travel Immunizations will be done by appointment only.

The current schedule is:

Adult & Travel Immunizations – Monday through Friday

This schedule is subject to change. Please call 419-213-2013 to schedule an appointment.
Flu Clinic Information
The Toledo-Lucas County Health Department is excited to keep you and your loved ones healthy this flu season. The Flu Season runs until October thru May.
All insurances may be billed, including Medicare Part B and Ohio Medicaid. No one will be turned away for inability to pay.
The Centers for Disease Control and Prevention recommends that everyone six months of age and older, and able to be vaccinated, should receive the flu vaccine each year.
For individuals requiring special accommodations, please contact the Health Department at 419-213-4163, to set up an appointment.
Regardless of age, we all need immunizations to protect against serious, and sometimes deadly, diseases. The specific vaccines you need as an adult are determined by your age, job, lifestyle, health conditions, travel destinations, and which vaccines you've had in the past. The TLCHD offers Adult & Travel Immunizations at competitive prices along with vaccine and travel information.
The TLCHD offers the following vaccines. Most vaccines are covered by insurance, but please check with your insurance carrier for your financial responsibility.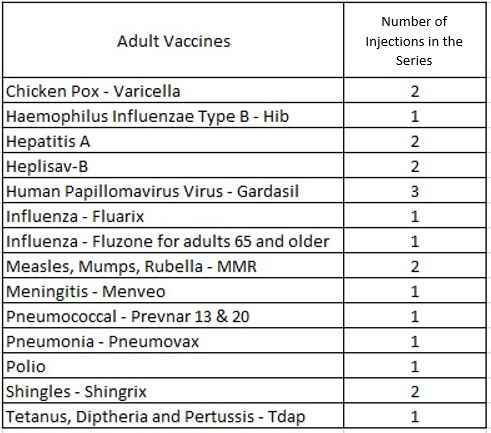 For more information on adult vaccines: https://www.cdc.gov/vaccines/adults/index.html
In addition to adult vaccinations, the following travel vaccines are available. Most travel vaccines are not covered by insurance, please check with your insurance carrier for your financial responsibility.
Please plan ahead to vaccinate at least 2 weeks prior to departure. You need time to complete the vaccine series before you travel and your body needs time to build up immunity. Start planning for your vaccines when you start planning for your trip.
If you require Malaria prevention please contact your primary care provider.
To discuss your vaccine needs or our vaccine prices please contact our Travel Nurse at 419-213-4163.
For vaccine information for your travel destination: https://wwwnc.cdc.gov/travel/destinations/list
Hepatitis A – It's not just for travelers
The Ohio Department of Health is recommending that individuals in high-risk groups receive the Hepatitis A vaccine. This includes:
Persons who use injection or non-injection illicit drugs
Persons who are homeless or in transient living conditions
Persons who are or recently have been incarcerated
Men who have sex with men
Persons with chronic liver disease, such as cirrhosis, hepatitis B, or hepatitis C

Methods of Payment include cash, check, credit card, or money order. Credit Card payments require an additional processing fee.
Assistance may be available for our uninsured and underinsured patients. Please call 419-213-4163 for more information.